How to Choose a Vehicle - According to different Usage & Work Conditions !
HOWO Truck Cabin Parameter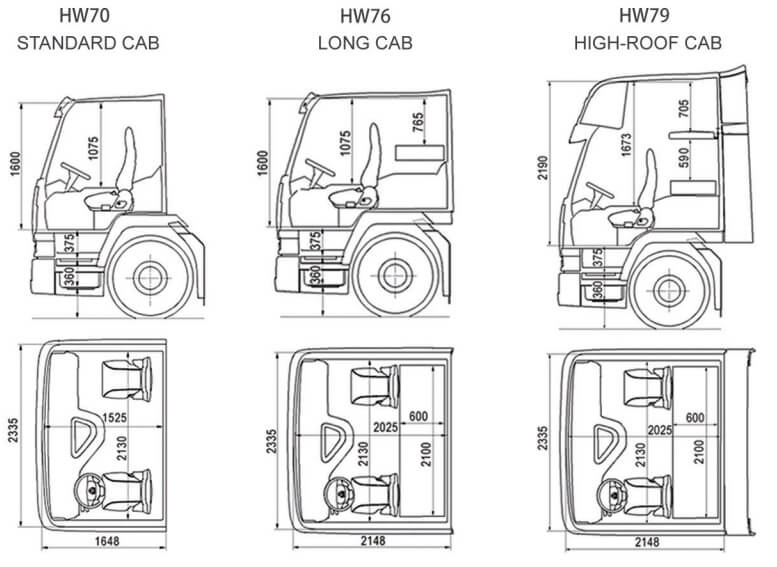 Dump Truck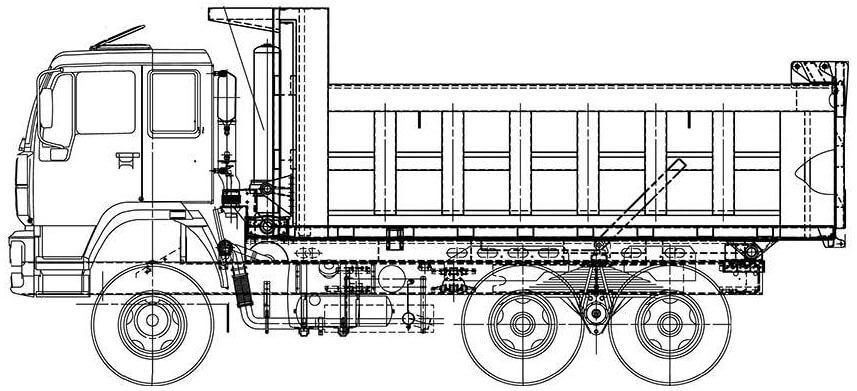 1- Mining place using: According to your requirements, the engine could choose 290 - 420hp. Choosing the short wheel base to improve the strength of the frame and vehicle trafficability. For gearbox, 9 speed transmission with bigger input torque. For drive axle, mining use drive axle is required with double reduction, differential lock and inter differential. For tire, we recommend to choose radial tire like 12.00R20. The dumping body can be made to mining use. For carrying big stones, the rear door of dumping body can be removed. The thickness of steel can be made to bottom 12mm, side and back 10mm to meet the requirement in mining, About tipper systemm, you can choose middle tipping or front tipping. Usually front tipping with HYVA tipping system is considered to be strong and stable. Usually the length of dumping body is 4800 - 5600mm.
2- The City Building: These trucks are usually traveling in city road with traveling distance less than 200kms. The engine power with 336hp or 380hp is the best choice. 6x4 drive type or 8x4 drive type according to the loading weight. For gearbox, 10 speed or 12 speed is better. Doulbe reduction axle, ratio is from 4.42 to 5.73. Better chosse radial tire. Usually the lenght of dumping body for 6x4 is 5600 - 6000mm; for 8x4 truck is from 6200 - 8500mm.
3- The Used for transportation distance more than 200km: The drive axle can choose ratio 4.42 or 4.8 and better use 8x4 to carry more each time to save time. Gearbox can choose 10 or 12 speeds. Tubeless tire is also good for these trucks. Body length is from 6200 - 8500mm, front tipping.
4- How to choose the truck tipping system?
Bucket Capacity: 15CBM-18CBM Middle/front tipping system
Bucket Capacity: 20CBM-25CBM Front tipping system
Bucket Capacity: Over 25CBM Front tipping system with HYVA brand
Tractor Truck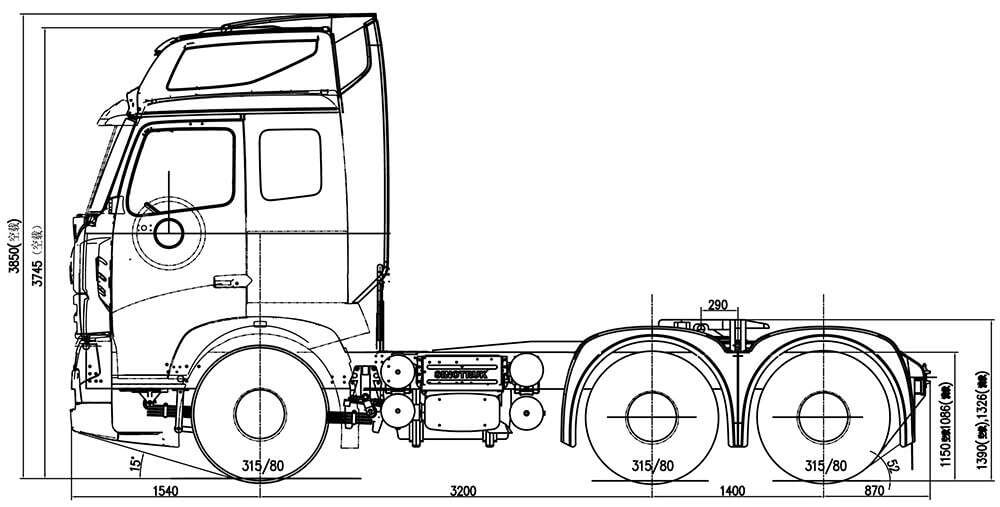 1- Carrying containers on deck: The terminal tractor truck with side cabin is your best choice. The best engine power is 260hp or 290hp with low rotate speed and large torque engine. The traveling speed is less than 45km/h and the towing weight is less than 60tons.
2- Logistics company transportation with towing weight less than 35tons on the high way: For logistic company, time is very important. The high speed truck is your best choice. Because these trucks will travel one first-class highway, the big engine power is the best choice, like 336hp, 371hp, 420hp. Al-alloy gearbox with 10 to 16 forward shift, single reduction axle with smal ratio less than 4, and tubeless raidal like 295/80R22.5 or 315/80R22.5 models. Economical speed are 75 - 105km/h. Also you can choose air deflector and side over plate, which can reduce te air resistance and fuel-saving when driving.
3- The heavy loading tractor truck, towing weight between 50tons -- 7otons: The tractor truck with 420hp engine power is the best to be suggested, double reduction axle with bigger ratio like 4.42 or 4.8, radial tire model 11.00R20 or 12.00R20. Economical speed is 72 - 90km/h.
4- For super heavy load tractor truck, transporting big heavy cargo and towing weight more than 100tons: Super strong truck frame, engine more than 420hp, radial tire, driving speed less than 55km/h, big drive axle ratio like 5.73, double reduction axle.
5- Extreme road conditions: we recommend all wheel drive trucks, like 4x4, 6x6 and even 8x8, 10x10 if necessary.
Container Semi Trailer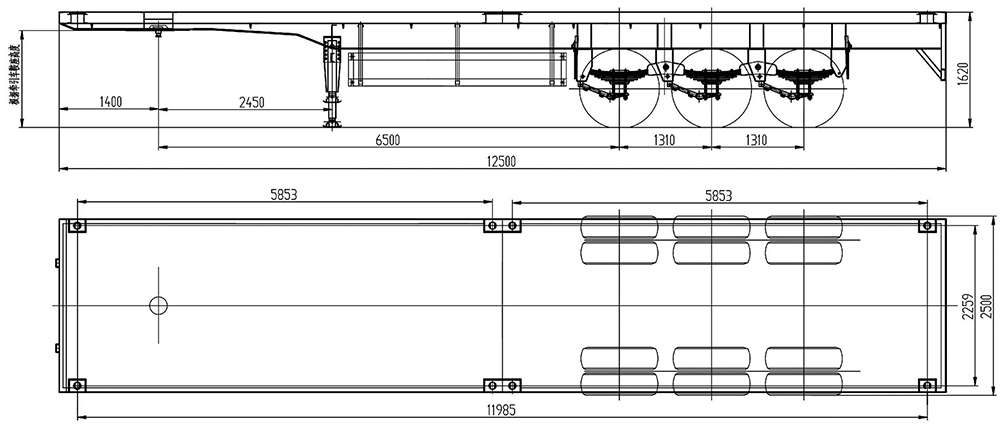 1- Skeleton Container Semi Trailer: 2axles and 3axles(FUWA or BPW brand, 13tons or 16 tons), loading 20ft/40ft container. This model also has two kinds:gooseneck type and straight beam. You can choose any type upon your need.
2- Flatbed Container Semi-Trailer: 2 axles and 3 axles(FUWA or BPW brand, 13tons or 16tons), loading 20ft/40ft container, it can work both at the port and high way for transportation.
3- Container Self Loading Trailer: Equiped with front and back cranes, both are installed in a semi trailer chassis, both of which can slip before and after on the chassis by wireless remote control operation, which can realize the auto loading and unloading of container, manual operation is reserved. With compact structure, reliable running, easy operation, high working efficiency, the semi trailer is widely used in ports, railway stations, freigh yard container handing and transportation.
Tipper Semi Trailer

1- Rear Tipping Semi Trailer: Its body length can be 8m to 13m to meet your construction needs.
2- Side Tipping Semi Trailer: It nees a broad, wide and flat working site, it is with shift cyliner, so the stability is in creased. Its biggest loading capacity can be 80--100tons.
Special Purpose Semi Trailer
1- Low Bed Semi Trailer: It is for delivery construction machinery such as excavator, bulldozer, wheel loader. It can load 20 to 80tons according to the trailer dimension. It also can be extra strengthened if needed.
2- Tank Semi Trailer: The fuel tank trailer has 2 axles or 3 axles according to different size. Different material can be used upon the medium it be filled fuel, crude oil, diesel, petroleum. Tanker body can have several compartments upon your needs.
3- Powder Material Semi Trailer (Bulk Cement Trailer): Mainly used for cemnt, cement warehouse and large construction sites, can save a lot of packaging materials and loading and unloading work.